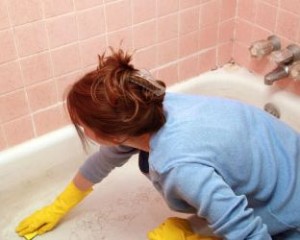 We are based in Kensington and we are the end of tenancy cleaning experts that will take proper care of your home and will help you move out with no complications at all. We will organize the entire cleaning process and will come to your home professionally equipped, at a time that suits you best.
We will provide detailed, top-to-bottom cleaning of every single room and your home will be immaculate. Your satisfaction is important to us and we can easily modify our services to your requirements. Book our services and as an added bonus you will get a guarantee that ensures the return of your deposit. If you are not pleased with our work we will re clean absolutely free of charge the areas that didn't meet your expectations.
CleanToPerfection provides reliable and affordable end of tenancy cleaning in Kensington, W6 London. Take care of the property – this is the main responsibility of every tenant. In order to be sure, every landlord will request a decent amount of money from you that you will actually have to pay as a security deposit – this is a guarantee that you will keep the place in good condition.
And when the time comes and you decide to move somewhere else, you will have to perform the so called end of tenancy cleaning – if you do it in a way that your landlord likes – then you will be able to get your money back.
Professional cleaning procedures
However, we are telling you all those things because many people lack the skill and time to perform all cleaning procedures and they experience a serios problem. If you don't want this to happen, then it might not be a bad idea for you to hire our cleaning services in Kensington.
Below we will post some of our cleaning procedures that we are usually performing while taking care of end of tenancy project at your place. But before doing this we would like to say a few words about our cleaning technicians in W8 Kensington.
Domestic End of Tenancy Cleaning Kensington
They have been picked really carefully and the reason for this is because we don't want to risk our positive reputation that we have been building for so many years. As a matter of fact it is really important for you to know that our mobile teams have been specially trained to perform such cleanings, so you can completely trust us.
Kitchen Cleaning Kensington
Vacuuming of carpets and mopping hardwood floors
Cleaning both outside and inside of windows
Doors cleaning
Cleaning both outside and inside of cabinets and cupboards
Cleaning outside and inside of household appliances
Cleaning of and de-greasing the oven and extractor fan
Bathroom Cleaning Kensington
Cleaning of toilet, sink, tap and shower
Bathtub cleaning
Cleaning mirrors, doors and windows
All other rooms
Mopping floors and vacuuming
Cleaning out/inside of cabinets, wardrobes and cupboards
Cleaning windows and doors
Cleaning paintings, wall hangings and mirrors
Our motto is we are always ready for business which means that you can get in touch with us anytime you want. You don't have to waste your time trying to find some other agency simply because you will not be satisfied with the result of their work.
More about Kensington
When visiting Kensington one could not possibly miss the main attraction – the worldwide known Natural History Museum with its myriad of exciting exhibitions and the Darwin Center which is a fairly new addition to the amazing world of places where you can discover all about natural history. The fact that Kensington is one of the most densely populated areas in London should not scare you, since this guarantees many places worth your visit.
Kensington Palace is another location with royal architecture and air, which is presently the official London residence of the Duke and Duchess of Cambridge, Prince William and Kate Middleton. However, once you are done with the sightseeing part of your walk, you can head straight to Kensington High Street, also known as one of the best shopping streets in West London. Kensington Gardens is just the place to get a breath of fresh air and enjoy the silence after that.